Local Brand Manager's online review management system makes it easy to keep up and engage with customers in ways that help your business grow. Designed at every level to account for the needs of multi-­location brands and digital agencies, the Local Brand Manager approach to review monitoring, analysis, and response makes things simple. With reliable, actionable data on-hand, Local Brand Manager users can be sure that they are enjoying everything that a strong online reputation can enable.
Analyze Your Brand Locally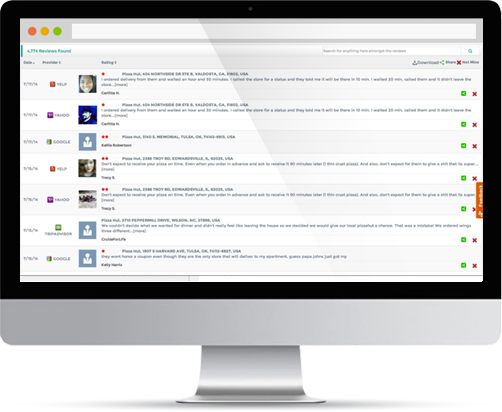 Automatic Updates
Keeps you informed about what's happening on all the major review sites and for each of your locations or clients.

Daily Alerts
Point out where to engage with reviewers online, giving you the chance to respond and support your customers.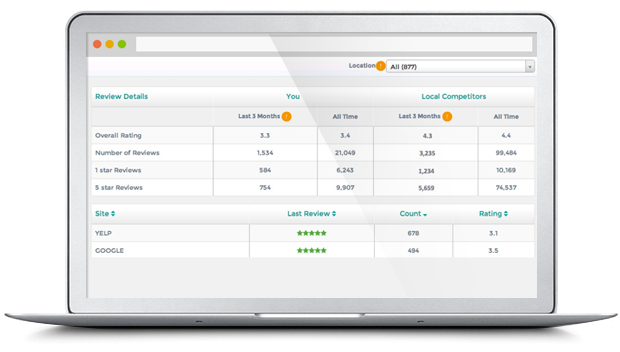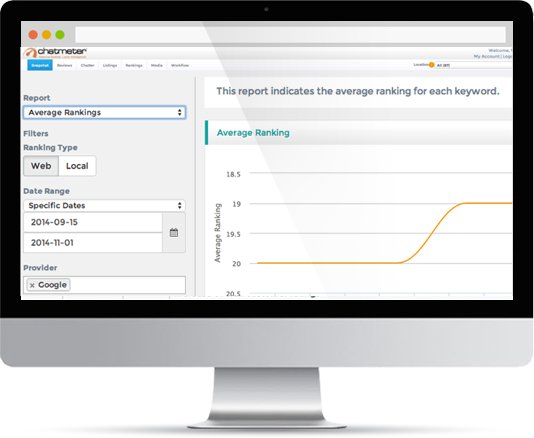 Benchmarking
Tools pit your business against competitors, showing you how you need to improve and where you are winning out.

Sophisticated Sentiment Analysis
Takes the pain out of characterizing reviews, giving you useful, at­-a­-glance summaries of what customers are feeling and writing about your company and its locations.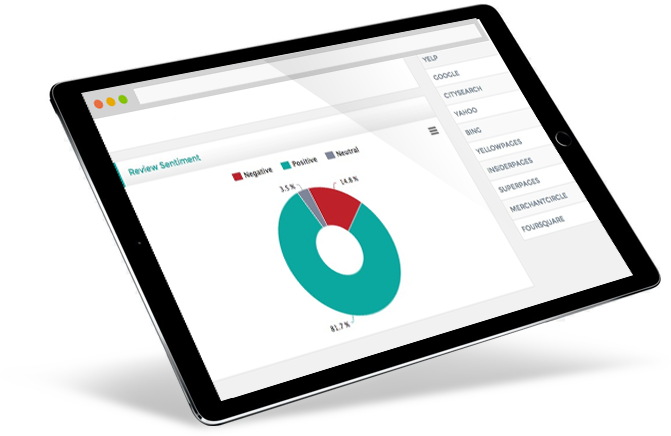 Centralized, Comprehensive Review Monitoring
From Yelp, Google+, YellowPages, and TripAdvisor to each of over 20 other top review sites, Local Brand Manager review monitoring automatically keeps track of what customers are saying online. With every new review and comment centralized in a single and simple dashboard, you can catch up quickly, whether everything is in order or an issue needs to be addressed
The Local Brand Manager online review dashboard helps you assess trends at a glance and makes sure your standards are being upheld everywhere you operate. Whether your business has a few locations or many of them, this powerful online review management tool makes it easy to discover which are performing as they should and which need improvement. Wherever customers might be talking about your brand, Local Brand Manager makes sure that you'll know.
Competitive Benchmarking Helps You Learn and Lead
Keeping up with your own reviews is a start, but knowing how your competitors are doing can be even more valuable. Local Brand Manager review benchmarking puts your locations head to head against the local competition, giving you an immediate, easily digestible take on what customers think.
You can learn from the leaders in any given area to help your local presence perform at a higher level.
You can discover what drives customers to your business over others in the area and double down on these strengths. You can watch, over time, as formerly insignificant competitors gather momentum of their own and develop effective plans for meeting their challenges head on. Let your customers and those of your competitors tell you things that can make your business even more successful.
Automated Sentiment Analysis Produces More Insights
A national­ scale brand might accumulate tens of thousands of reviews across its various locations. While Local Brand Manager's online reputation and review tracking tools make it easy to dive in deep, a quick summary is never far away either.
Sophisticated sentiment analysis algorithms go beyond the stars and digits, automatically characterizing reviews according to the nuanced judgments reflected in their content.
Collected together, these assessments provide another window into how your customers are feeling about your products and services.
Whether through site­-specific breakdowns or an overall summary, you can quickly get a feeling for local performance that goes beyond what review rating averages can tell. For reviews at sites where granular ratings are not the norm, you gain reliable quantitative takes on the qualitative reports your customers leave behind.
Understand and Improve Your Online Reputation for Each Store Location
Building and maintaining your company's reputation matters in many ways, and Local Brand Manager specifically accounts for all of them.
Simply by going with the flow and responding in natural ways to the data that Local Brand Manager's reputation management system offers, you can produce a range of important benefits for your company and each of its individual locations.
Be Part of the Conversation from the Start
Sometimes, a momentary oversight or minor mistake is enough to produce a negative review online. While some customers will happily share their positive experiences, those who feel slighted tend to be a lot more motivated.
Rather than passively hoping that positive reviews outweigh the bad ones, it makes much more sense to seek active ways to engage. Local Brand Manager's local review monitoring dashboard makes it easy to see where attention is needed, so you can get involved wherever problems might be cropping up.
That means being able to respond quickly and precisely but without needing to waste time tracking down problems. With a centralized list of new reviews that reflect activity across every one of a brand's locations, the Local Brand Manager online review management system allows you to join every conversation as soon as it begins.
By being there from the beginning, you show that your customers matter. By responding quickly and effectively, you prove that great customer service is the norm. Not every customer will ever come away happy, and those who are less than satisfied tend to speak out. Local Brand Manager's online reputation monitoring features make sure that you'll always be able to hear and respond.
Improve Service by Learning from Customers' Experiences
Even the best­-tuned strategies can fail to produce results on the ground. Powerful review management features like those provided by Local Brand Manager make it easy to plumb the realities of day-­to-­day operations across all your locations. Instead of hoping that local presences are following through on their directions, managers, marketers and strategists can be sure.
By summarizing and centralizing how customers are responding online, Local Brand Manager's review monitoring tools deliver concrete, actionable data. When a problem crops up at a particular location, negative reviews can be the fastest and most direct way of finding out.
Whether through a quick glance at sentiment analysis reports and overall summaries or by drilling down deeper, those with a need for location­-specific takes on operational outcomes can get them easily and at any time.
The same holds for organization-­wide results, with Local Brand Manager being just as helpful when it comes to analyzing the impact of new procedures, standards, and other developments. Online reviews become something not just to cultivate on their own account but also a valuable source of data that can drive customer­ oriented change all across a company. Because Local Brand Manager was designed to always respect the value of your time and attention, producing results becomes simple and easy.
Show You Care and Earn Clients' Trust
When a customer posts a bad review, it can be tempting to assume that it was a particular experience alone that motivated the move. In fact, it is often associated feelings of being taken for granted that drive customers to post negative reviews online.
The best way to avoid these pitfalls is to build up a reputation for caring. Engaging regularly, responsively, and effectively with clients online is what most often makes the difference. By showing each reviewer that every customer matters, a company instills trust and appreciation in others as well.
Over time, this can mean that a slow start at a new location will motivate loyal customers to counsel patience to others online. It can mean that customers will be more likely not only to award repeat business but to go out of their way to recommend a company to others.
A business that responds in a caring manner humanizes itself in the eyes of its clients and the public in general. Effective locality­ aware online reputation monitoring software like that offered by Local Brand Manager can be a pillar of this important requirement of modern business.
Stay Alert with Daily Email Deliveries and More
Even if you only have a few minutes, Local Brand Manager's online reputation management features make it easy to stay on top of everything that matters the most. Concise daily email alerts keep you in tune with the latest developments, making it simple to respond or to delegate.
Building and maintaining the reputation of a multi­-location business might not always be easy, but with Local Brand Manager it becomes much more so. By making it simple to get exactly what you need, when you need it, and at whatever level of detail makes the most sense, Local Brand Manager turns the sometimes­ confusing world of online reputation into something you can master. Local Brand Manager's online review monitoring functionality is so powerful and rewarding that even a few minutes spent with the free demo will prove its value.
As one important component of a comprehensive platform, Local Brand Manager local reputation management software supports the whole and complements the others. Online reputation problems can become devastating to companies of all kinds and sizes, but there are ways of ensuring they never reach that point.
A strong reputation online as manifested in reviews can turn out to be one of the most valuable assets of all. Local Brand Manager's review management features have helped some of the world's most successful brands go on to even bigger and more impressive things.